WELCOME
Welcome to our TGS site which has been set up to give Old Thornburians a focus for their nostalgia.
Thanks to our many contributors it is developing into a very general site to appeal to all ages who attended the school (including staff!).
We hope that you enjoy browsing the contents, and welcome all contributions.
Mick Munns and David Webb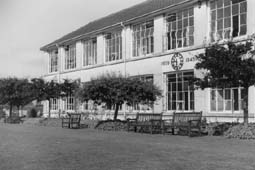 Adobe Acrobat
Many of the longer documents on this site are in Adobe Acrobat (.pdf) format for ease of use. Just save them to your hard drive and then you can read them at your leisure. Download Acrobat Reader
NEW
Prefects photos - 46, 47, 51, 52, 56
Open Evening Programme, with plan sketch of school - 1968
The Thornburian from 1935, 36, 37, 39, 57, 66
Some faces and netball/rounders teams from the Late 50s
St Briavels - 1958
Gower Peninsula - 1960
Nympsfield Camp - c1936